Event Recap: NBC News Learn's Education Now: Detroit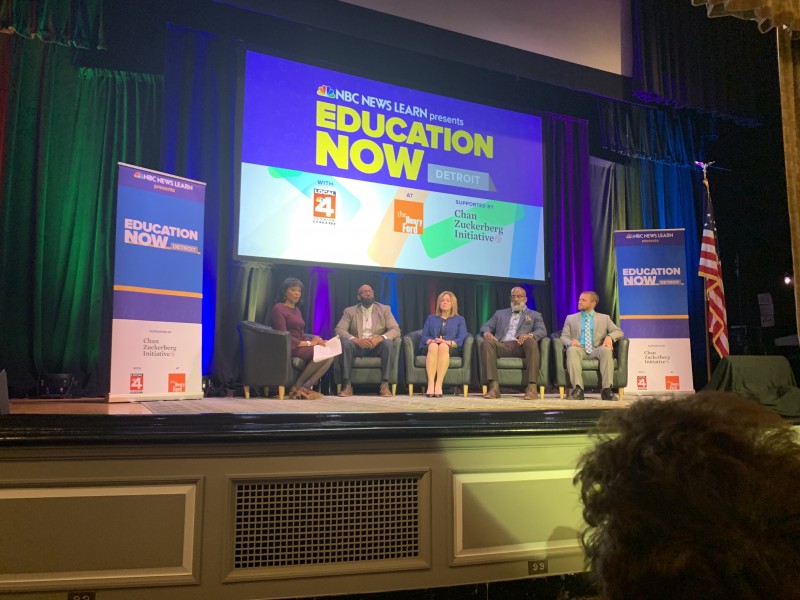 On October 24, 2019, NBC News Learn hosted Education Now: Detroit, a special event that featured teachers, researchers, advocates, and community members from across Metro-Detroit who, in a series of panel discussions, examined a range of critical education issues in Michigan. These included examining student trauma and its' impact on learning, addressing chronic absenteeism, combatting teacher shortage, and creating more access to opportunities for children.
One clear theme across the panels was this: students will communicate the support they need, all teachers, school leaders, and others who serve children and young people in schools need to do is ask and listen. The event opened with a heart-wrenching presentation by Dr. Danielle Busby, a licensed clinical psychologist and Assistant Professor at Baylor College of Medicine. Busby shared the stories of two Black students, Jalen and Alexis, who had both experienced experienced death and abuse at home at an early age.
Many children who are living in poverty or have other Adverse Childhood Experiences (ACEs) such as the abuse and neglect Jalen and Alexis experienced, Dr. Busby said, are more likely to have maladaptive outcomes. This is because trauma can have harmful effects on the parts of the brain that are responsible for learning, memory, and regulating emotion. In the classroom, this might translate into children expressing disinterest in classwork, having trouble forming relationships with other students, or having difficulty grasping academic content.
Rather than punishing children who are overcoming ACEs, panelists agreed that schools must intervene and provide the care and support children need that will lead to their academic, social, and emotional flourishing. But where do they start? Jason Wilson, CEO of The Yunion, a Detroit-based non-profit that services young people and families, said teachers could start by simply asking and providing students with a "safe place without condemnation" to express what they need.
"Answering [kids] is sometimes just listening to them," Wilson said. "We need to listen more. When you give them the floor to express themselves without condemnation, you'll end up getting to the cause and effect of what's causing their negative behavior."
However, if teachers are to listen to children, and teach in ways that intervene on patterns of trauma, inaccess, and oppression, then they need deliberate practice and support during their pre-service training that enables them to learn how. If not, once they enter the field, they risk teaching in ways that harm children instead of helping them or being overwhelmed by the many tasks of teaching and leaving the profession. A recent report from the Alliance for Education, which was also discussed during the portion of the event that focused on teacher shortage in Michigan, found that teacher turnover is especially high in communities with high concentrations of poverty and children of color. Attending to the adequate preparation of teachers who will go on to teach Black and Latinx children, and children living in low-income communites is a matter of racial and economic justice. Teacher educators must provide pre-service teachers with experiences that simulate the core tasks of teaching, enable them to use their teaching to advance justice in classrooms, and support their thriving once they enter the teaching profession.